February 21, 2014
Mesh Ventral Hernia Repair Has Lower Recurrence Rate
Findings compared to suture; but has higher risk of seroma formation and surgical site infection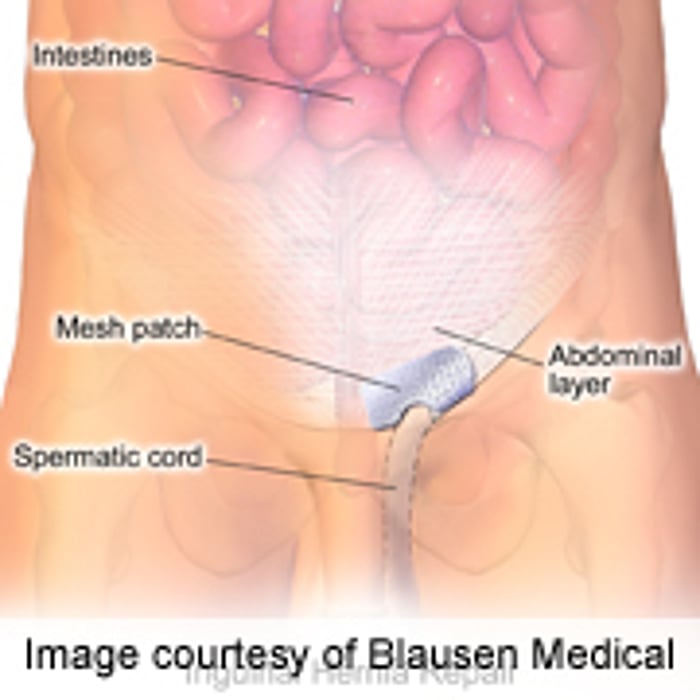 FRIDAY, Feb. 21, 2014 (HealthDay News) -- For primary ventral hernias, mesh repair results in a small reduction in recurrence rates compared with suture, but carries an increased risk of seroma and surgical site infections (SSIs), according to a review published online Feb. 19 in JAMA Surgery.
Mylan T. Nguyen, from The University of Texas Health Sciences Center in Houston, and colleagues conducted a literature search to identify randomized controlled trials, case-control studies, and cohort studies which compared both suture and mesh techniques during elective repair of a primary ventral hernia. The reviewed studies were dated from Jan. 1, 1980, through June 1, 2012.
The researchers found that across all nine studies there were 637 mesh repairs and 1,145 suture repairs. When pooling mesh repairs, there was a 2.7 percent recurrence rate, 7.7 percent seroma rate, and 7.3 percent SSI rate, compared to 8.2, 3.8, and 6.6 percent, respectively, when pooling suture repairs. In multivariate meta-analysis, recurrences (log odds ratio [OR], −1.05; 95 percent confidence interval [CI], −1.58 to −0.52) were more common with suture repair, whereas seromas (log OR, 0.84; 95 percent CI, 0.27 to 1.41) and SSIs (log OR, 0.65; 95 percent CI, 0.12 to 1.18) were more common with mesh repair.
"Further high-quality studies are necessary to determine whether suture or mesh repair leads to improved outcomes for primary ventral hernias," the authors write.
One author disclosed financial ties to LifeCell and ACell.
Abstract
Full Text (subscription or payment may be required)
Physician's Briefing