October 10, 2014
Surgeons Vary in Treatment of Recurrent Herniated Disc
Spine surgeons in the U.S. differ in their opinions of best treatment for recurrent lumbar disc herniation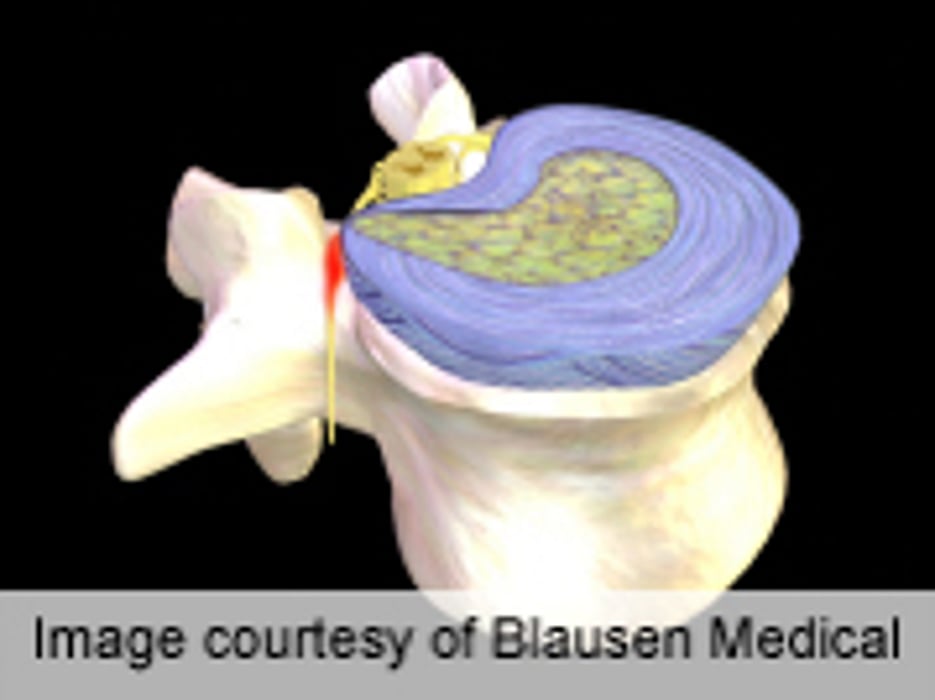 FRIDAY, Oct. 10, 2014 (HealthDay News) -- A recent survey shows differences among spine surgeons in the United States in preferences for surgical treatment of recurrent lumbar disc herniation. The results of the survey were research published in the Oct. 1 issue of The Spine Journal.
Thomas E. Mroz, M.D., of the Cleveland Clinic Foundation, and colleagues delivered an electronic survey to 2,560 orthopedic and neurologic surgeons to assess surgical treatment patterns for one-time and two-time recurrent lumbar disc herniation.
Four hundred forty-five surgeons (18 percent) completed the survey. The researchers found that surgeons who had practiced for more than 15 years were more likely to prefer revision microdiscectomy, whereas surgeons with less practice experience were more likely to prefer revision microdiscectomy with posterior lumbar interbody fusion/transforaminal lumbar interbody fusion (PLIF/TLIF) (P < 0.001). Surgeons who performed more than 200 surgeries per year were more likely to prefer revision microdiscectomy with PLIF/TLIF than those who performed fewer surgeries (P = 0.003). The probability that two randomly selected spine surgeons would disagree on surgical approach was 69 percent for two-time recurrent disc herniations and 22 percent for one-time recurrent disc herniations.
"It will become increasingly important to understand the underlying reasons for these differences and to define the most cost-effective surgical strategies for these common lumbar pathologies as the United States moves closer to a value-based health care system," the authors write.
Several authors disclosed financial ties to the biomedical industry.
Abstract
Full Text (subscription or payment may be required)
Physician's Briefing