October 15, 2012
HPV Shot Doesn't Encourage Sexual Activity in Girls: Study
No increase seen in STDs, pregnancy or birth control counseling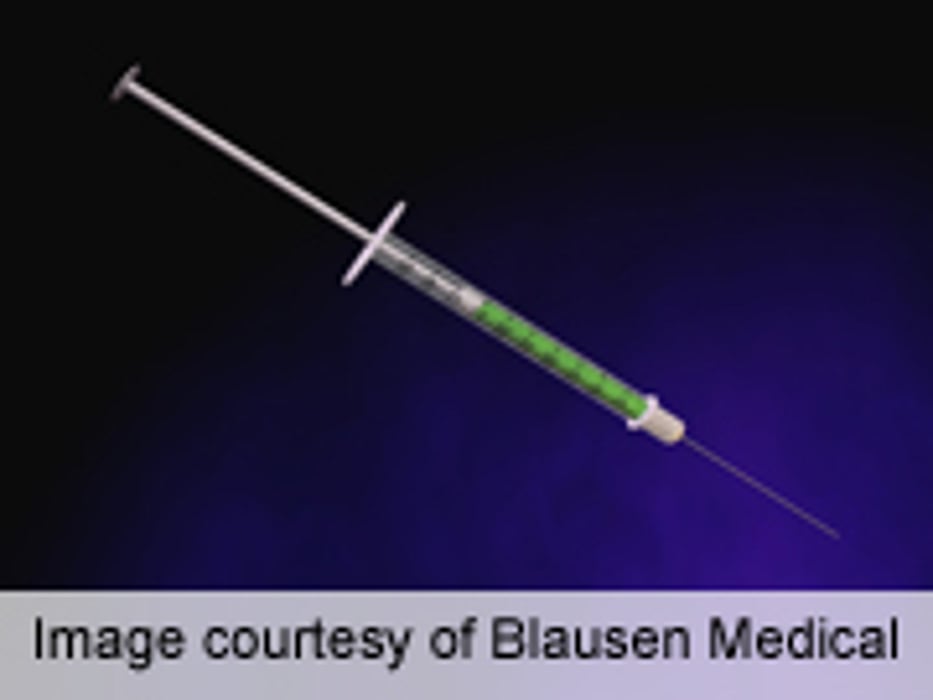 MONDAY, Oct. 15, 2012 (HealthDay News) -- Young girls who receive a vaccine to protect against the virus that causes cervical cancer do not become sexually promiscuous after the shot, new research finds.
Two versions of a vaccination against the sexually transmitted human papillomavirus (HPV), which causes cervical and some other forms of cancer, are available and recommended to all girls aged 11 to 12.
But less than half of girls eligible for the shot have received it, apparently due in part to concerns that it might encourage sexual activity.
This study goes beyond girls' own reports that the vaccination would not alter their sexual behavior, instead using medical records to examine the connection.
The study followed the girls from age 11 or 12 (in 2006-2007) to the end of 2010, which provided three years of follow-up data.
"We're hoping that this will offer some validation to what we've seen in the past, where girls and young women have indicated that they wouldn't change their sexual behaviors if they got the vaccine," said Robert Bednarczyk, lead author of a study appearing in online Oct. 15 and in the November print issue of Pediatrics.
Bednarczyk is a clinical investigator with Kaiser Permanente Center for Health Research Southeast and an epidemiologist with the Rollins School of Public Health at Emory University in Atlanta. Kaiser Permanente and Emory University funded the study.
Dr. Joanne Mortimer, director of the Women's Cancer Program at City of Hope in Duarte, Calif., said this study should put "to rest any concerns that kids who know they've been vaccinated are safer [from the virus] and can have more sex."
Mortimer was not involved with the study.
The HPV vaccines -- Gardasil and Cervarix -- are also recommended for girls and young women aged 13 through 26. Gardasil, which also prevents genital warts, is recommended for males aged 11 through 21 as well.
The vaccine is "terrifically important," Mortimer said, because it has the potential to eradicate cervical cancer, if not cancers of the anus and certain cancers of the head and neck, which are also caused by HPV.
The researchers gathered their information from the health records of nearly 1,400 girls aged 11 through 12 enrolled in the Kaiser Permanente health plan. About 500 of the girls had received at least one dose of Gardasil and 900 had had other recommended vaccines for their age group but not HPV.
There was no significant difference in infection with the sexually transmitted disease chlamydia, pregnancy or counseling for birth control between the two groups, suggesting that receiving the HPV vaccine did not change sexual behavior.
The findings indicate that sexual activity may not start any earlier among girls who got the vaccine, the study stated.
The authors did not have any information on rates of gonorrhea infection but, typically, gonorrhea infections occur with chlamydia infections so there was no reason to look at them separately, Bednarczyk said.
More information
The U.S. Centers for Disease Control and Prevention has more on HPV vaccines.
SOURCES: Robert Bednarczyk, Ph.D., clinical investigator, Kaiser Permanente Center for Health Research Southeast and epidemiologist, Rollins School of Public Health, Emory University, Atlanta; Joanne Mortimer, M.D., director, Women's Cancer Program, City of Hope, Duarte, Calif.; November 2012 Pediatrics
Consumer News